Children are required to wear a school uniform
Our dark blue polo shirts is available through the PTA from the school office at a cost of $35.  Royal / dark blue polar fleece sweats and shorts are also part of our uniform. These are not sold through the school.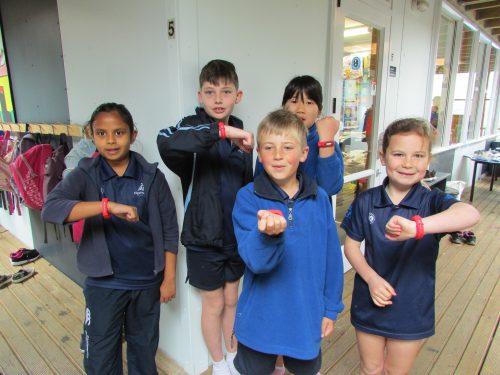 Blue Canterbury track pants may be worn in the winter months. Please, no jeans or jean shorts are to be worn.
Second hand uniform items may be available from the school office or may be advertised in the school newsletter from time to time.
Footwear
As our school is fully carpeted we like children to remove their shoes  when entering their classrooms, particularly in the winter. It is advisable, therefore to supply a pair of slippers, moccasins or wooly socks for indoor wear during Terms 2 & 3 in particular. It would be appreciated if young children wear shoes which they can put on and take off by themselves.
Jewellery
Occasionally children come to school wearing dangling earrings, multitudes of bangles etc. While personal pride is to be commended, we are concerned with the safety of children and the security of items. Dangling earrings, for example pose a threat when children are playing.
The wearing of jewellery is restricted to watches and plain studs or sleepers in the ears.
In case of exceptions eg. cultural identity, a letter outlining reasons must be sent to school.
Nail polish, make-up and dyed hair are inappropriate for children at Ngaere School.
Mufti days
Children will be permitted to wear mufti at least once each term. Generally this is a fundraising for charity event. We expect children to be cleanly and tidily dressed and to wear clothing appropriate to their age and to a primary school setting.